Phone 302-629-3792

BATHTUB TO SHOWER CONVERSIONS

EXPERT FIBERGLASS REPAIRS

WHIRLPOOL SERVICE & REPAIRS


SERVING THE DELMARVA PENINSULA AND SURROUNDING AREAS
Eastern Maryland, Delaware, Eastern Virginia, New Jersey, Southeastern Pennsylvania,
Washington DC, Baltimore, Annapolis, Cambridge, Salisbury, Easton, Philadelphia,
Ocean City, Wilmington, Newark, Dover, Seaford, Georgetown, Milford, Frederick,
Milton, Dagsboro, Millsboro, Rehoboth Beach, Lewes, Dewey Beach,
Bethany Beach, South Bethany Beach, Fenwick, Ocean Pines,
Chincoteague, and more...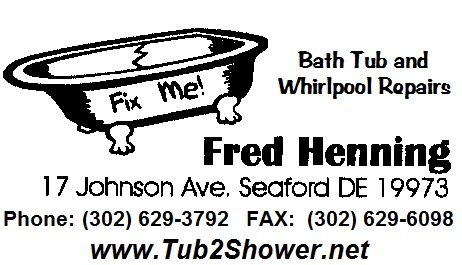 At home, most accidents occur in the kitchen or the bathroom. Slips and falls are common bathroom accidents that can be prevented.
Bathtub to shower conversions can help anyone who has trouble getting in and out of a bathtub such as the elderly or someone recovering from a recent surgery.
Knee, hip and back surgery patients will be delighted with the bathtub to shower conversion! Fred can make a
temporary conversion
during patient recovery and then restore the tub back to its original shape.
This is a great convenience for renters and apartment living.
Fred can save you lots of money with a fiberglass repair, whirlpool repair, or a bathtub to shower conversion when compared to getting a full bathtub replacement. Give him a call today!